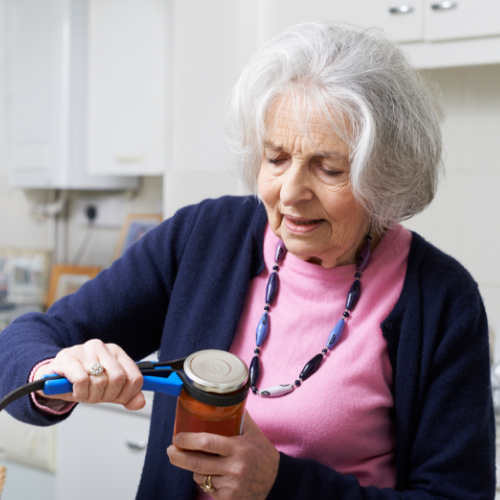 Do you have an injury or medical condition that is causing you pain, limiting your daily activities, and preventing you from enjoying the things you love? Are you looking for relief for a condition that is holding you back? Would you like to learn more about how occupational therapy can help you eliminate your pain and improve performance? If so, occupational therapy can help you reclaim your life. Contact Choice Therapy today to request an appointment or free screening with a northern Minnesota occupational therapist!
Occupational therapists treat all individuals through all ages and stages of life, enabling people of all ages to live life to its fullest by helping them promote health, and prevent—or live better with—injury, illness, or disability. Occupational therapy is more than just addressing an injury. At Choice Therapy, our occupational therapists focus on your functional needs by implementing certain exercises and activities that promote physical and psychological well-being.
Occupational therapy is the only profession that helps people across the lifespan (from newborns to older adults) to do the things they want and need to do through the therapeutic use of daily activities (occupations), such as eating, dressing, school activities and work. Occupational therapy is a form of treatment that is deeply rooted in science and supported by numerous medical journals. Our northern Minnesota occupational therapists work hard to help you recover from injuries and regain functional skills.
Occupational Therapy Specialties:
Musculoskeletal Dysfunction, Neuromuscular Re-ed/disorders, Work Injuries, Upper Extremity Rehab, Cognitive Retraining, Activities of Daily Living, Sports Injuries, Hand Therapy, Post-Surgical Rehabilitation
Pediatrics: developmental delay, sensory integration, emotional regulation, reflex integration, visual deficits, motor skills
According to the American Occupational Therapy Association (AOTA), in addition to dealing with your physical well-being, It is practitioners address psychological, social, and environmental factors that may hinder your function. For example, this therapy for a mother may include using a special tool to make cupcakes at home. If an adaptation to a utensil needs to be fashioned, an occupational therapist will do it. This unique approach makes this therapy a vital part of health care.
What can occupational therapy do for me?
This therapy interventions include helping children with disabilities to participate fully in school and social situations, helping people recovering from injury of the upper extremities (i.e., hand, wrist, elbow, shoulder girdle, rotator cuff, multiple joints), and providing supports for older adults experiencing physical and cognitive changes.
At Choice Therapy, our occupational therapy plans include:
an individualized evaluation, during which the client/family and occupational therapist determine the person's goals
customized intervention to improve the person's ability to perform daily activities and reach the goals
an outcomes evaluation to ensure that the goals are being met and/or make changes to the intervention plan
Occupational therapists have a holistic perspective, in which the focus is on adapting the environment and/or task to fit the person, and the person is an integral part of the therapy team. It is an evidence-based practice deeply rooted in science.
Contact Choice Therapy for relief!
You feel better emotionally when you can comfortably engage in your hobbies and everyday activities. If you believe you could benefit from this therapy, don't hesitate to request a free screening or appointment today. Choice Therapy is ready to get you started on the path toward living a more enjoyable, comfortable, and functional life!
Your Next Steps...
Request An Appointment

Receive A Custom Treatment Plan

Work Hard and Progress In Your Recovery

Recover & Enjoy Life Pain-Free!
Get Back To Doing What You Love!