At Choice Therapy, we have a highly experienced team of physical, occupational, and speech therapists that live, work and are involved in the communities we serve. We offer specialized treatment services for any pain, injury, or discomfort you may be feeling. Our patients have found high levels of success in our treatment services, due to our implementation of advanced technology and methods.
We use sophisticated diagnostic methods, such as movement investigation and gait analysis, to help determine which services you will benefit from most. At Choice Therapy, our thorough evaluations lead to successful treatment plans for your pain relief, healing, and future injury prevention needs.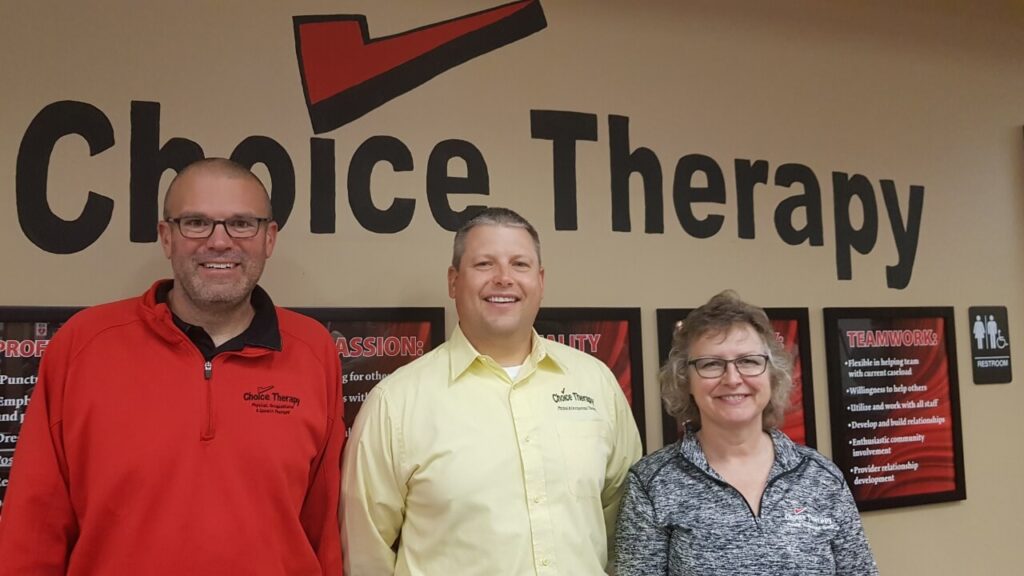 Choice Therapy is located in northern Minnesota, with dedicated staff members that are eager to help you recover. Our clinics are located in Hibbing, Bemidji, Bagley, Gonvick, Blackduck and Kelliher, making it a commonly frequented spot for pain relief.
Choice Therapy of Bemidji, Minnesota was founded in 2009 by Joe Kapaun, Jason Brodina, and Cheri Ware. The foundation of our clinics are to provide high-quality care, excellent customer service, and prompt cost-effective treatment of our patients.
Awards of Excellence
Voted 2022 Best Therapy Clinic and Best Professional Services in Bemidji
---
2020 Best of Bagley Awards in the category of Physical Therapy Clinic.
Choice Therapy, PA has been selected for the 2020 Best of Bagley Award in the Physical Therapy Clinic category by the Bagley Award Program.
Each year, the Bagley Award Program identifies companies that we believe have achieved exceptional marketing success in their local community and business category. These are local companies that enhance the positive image of small business through service to their customers and our community. These exceptional companies help make the Bagley area a great place to live, work and play.
---
Voted #1 Best Therapy of the Bemidji Area – 2019 (The Bemidji Pioneer and BuyLine)
---
Choice Therapy has been named to the 2015 Inc. 5000 list, ranking 2,313.
This list is a ranking performed by Inc., which analyzes the nation's fastest growing private companies based upon growth over a three year period. Choice Therapy experienced 167% growth over this time period.
In addition to this overall ranking, Choice Therapy was named as the 5th fastest growing company in the Greater Minnesota area, and the 3rd fastest growing Health-related company in the State of Minnesota.
A complete listing of these 5000 private companies is available at: www.inc.com/inc5000.
Our mission is helping YOU!
Mission
Providing exceptional care to our patients and staff while enriching the communities we serve.
Values
Teamwork, Quality Services, Compassion, Integrity, Professionalism
Vision
The premier healthcare provider and employer in the communities we serve, while growing our independent private practice.
At Choice Therapy, we have one mission: providing exceptional care to our patients and staff while enriching the communities we serve. Our treatment plans are aimed toward the achievement of your goals, taking into account your symptoms, medical history, and any health restrictions you may have. We look forward to watching you achieve your recovery, health and goals! With our care and commitment, we know that is possible for anyone who walks through our doors.
If you are in the northern Minnesota area, and you are looking for relief, look no further. Choice Therapy is here to help as one of the most favored therapy practices. Call our office at 800-395-2810 to request an appointment or free screening with one of our therapists today! We will be happy to meet with you and create a plan for your journey toward health, healing, and pain relief.
At the end of the day, the Choice Therapy team is here to provide support to YOU – the patient. Our success is dependent upon your success, and we strive to create a warm, welcoming environment where you can comfortably heal.
Our Benefits
Free Screen
Are you experiencing challenges with your daily functioning? Do you have aches and pains? Do you have questions about your child's development? Physical, Occupational and Speech Therapy are excellent options for treatment of adults and children. Come in for a 15 minute free screen to help determine if you are a candidate for treatment. Whether your pain is old or new, we can help you reach your full potential. Call us to schedule your free screen today!
Accepts All Insurances
Because we are independent and locally owned, Choice Therapy accepts all insurance companies. Your health insurance provider usually covers physical, occupational and speech therapy services. Several insurance plans have either a deductible or copay. It is best to check with your insurance provider regarding coverage and limitations to rehab services. Some insurance companies do require a referral to qualify for their particular insurance plan. It is best to check with your insurance provider to see if a referral is required. Another option is to pay for therapy services privately, including same day pay and credit card payments, which will not require a physician referral. We have several payment options available and we can assist you with contacting your insurance or other payment options.
Caring Team Members
We love what we do and it shows. Whether you see us for physical, occupational or speech therapy, rest assured that our team treats our patients with personal, caring and dedicated customer service. Many of our team members have been here since we opened our doors 10 years ago.
Close Convenient Parking
No parking across a parking lot the size of a football field. All seven of our Choice Therapy locations offer convenient parking close to our front door.
Direct Access
Refers to physical therapy and the ability of patients to be evaluated and treated by a physical therapist without being referred by a doctor or other healthcare practitioner. If you feel you have a problem that may benefit from the skilled services of a physical therapist, you may be able to refer yourself to physical therapy for treatment.
What this means for our patients: If you have an injury or an increase in pain and your health plan provides direct access, you can be evaluated and treated by a physical therapist for up to 60 days without a physician's referral. It is an easy process that can begin with a 15 minute free screen to promptly assess if therapy is required and or a quick call to the phone number provided on the back of your insurance card to determine if your health plan accepts direct access. Keep in mind deductibles, co-pays and other health care costs your insurance company require, would still apply.
Effective Treatments
Our staff will assist you in the registration process and you'll then go through an examination by a therapist. They will ask you a few questions, assess your injury/physical abilities, and develop a plan of care with all of your needs taken into consideration. If more sessions will be needed, our staff will then assist you in scheduling further appointments. This first visit will last approximately one hour. Follow-up visits are typically 40-50 minutes. Usually, you can expect to be seen 2-3 times per week. However, this will vary for each person and each diagnosis. You will also receive self-management recommendations. Our goal is to make you independent in your own rehabilitation program.
Excellent Quality Service
We treat our patients how we like to be treated. We understand that most of our patients are experiencing some form of discomfort or pain, so we go the extra mile ensuring your experience with us is positive.
Flexible Scheduline
We're all living busy lives. We offer flexible scheduling to make your visit convenient and timely.
Individual Treatments
Every patient is different, so our therapists will spend time listening to you, your concerns, your needs and your physician's input to ensure the best possible outcome. Each individualized treatment plan is designed to get you back to your normal activities, back to work, and most importantly, back to life.
We listen. We collaborate. We communicate. We work with you and our team to find and achieve the best treatment plan to help you reach your goals. Our team is always learning and implementing the newest and proven rehabilitation practices.
In-Home Therapy Available
People who are unable to get out of their home, live within 6 miles of our outpatient clinic, and are not on Home Health services are able to be seen for outpatient services in your home. This program is set up for people who, for a short period of time, are unable to get out of their house. We typically transition these people into outpatient services in our clinic as they improve physically. It is ideal for people receiving a total joint replacement surgery. Please contact our clinic for more information.
Locally Owned
Choice Therapy opened its doors in 2009, proudly serving Bemidji, Blackduck, Bagley, Gonvick, Hibbing and Kelliher. We're local, we live here, we're based here and we're actively involved in the communities we serve.
Same Day Pay
Finding affordable health insurance can be a daunting task. There are rising costs of deductibles, co-pays, co-insurance and limited covered sessions. Same Day Pay is a benefit that Choice Therapy can offer to our patients that gives you the power to see a therapist, the freedom to set the proper visit limits with your therapist and pay a flat rate each session without billing your insurance company. There are several advantages to this program:
Less required paperwork
Your right to choose your provider
Pay an established flat rate fee with no billing or insurance company required
Freedom to set the visit limits with your therapist
A health plan with a high deductible that has not been met
Prompt and courteous care
Team Approach To Your Care
Whether you are recovering from an injury, experiencing a painful condition, learning how to prevent future injuries, maximizing your athletic performance or rehabilitating after surgery, our team of therapists will help you reach your goals and improve your quality of life.
We also work closely with other members of your medical care team to restore and improve mobility and motion so you can function at your highest potential. We have a good understanding of the connection between your needs, abilities, and environment, which assists in your successful recovery.
Proven Results
Our goal for patients is simple: to help them to live dignified and optimally independent lives. We tailor each individual's therapy plan to his or her unique needs.
Quality Care
Every patient is different, so our therapists will spend time listening to your needs and concerns to ensure the best possible outcome. Each plan is designed to get you back to your normal activities, back to work, and most importantly, back to life.
We work hard to create a positive and family-friendly clinical and service experience for our patients. When daily life is altered due to an injury, accident, chronic medical condition or re-injury it is difficult. Our priority is to help you reach your recovery goals through an individualized plan of care that will get your life back on course.
We treat all ages with all sorts of conditions.
Make YOUR CHOICE for Therapy
CHOICE THERAPY!