Our Practice
At Choice Therapy, we have a highly experienced team of physical, occupational, and speech therapists that live, work and are involved in the communities we serve. We offer specialized treatment services for any pain, injury, or discomfort you may be feeling. Our patients have found high levels of success in our treatment services, due to our implementation of advanced technology and methods.
We use sophisticated diagnostic methods, such as movement investigation and gait analysis, to help determine which services you will benefit from most. At Choice Therapy, our thorough evaluations lead to successful treatment plans for your pain relief, healing, and future injury prevention needs.
Choice Therapy is located in northern Minnesota, with dedicated staff members that are eager to help you recover. Our clinics are located in Crookston, Hibbing, Bemidji, Bagley, Gonvick, Blackduck and Kelliher, making it a commonly frequented spot for pain relief.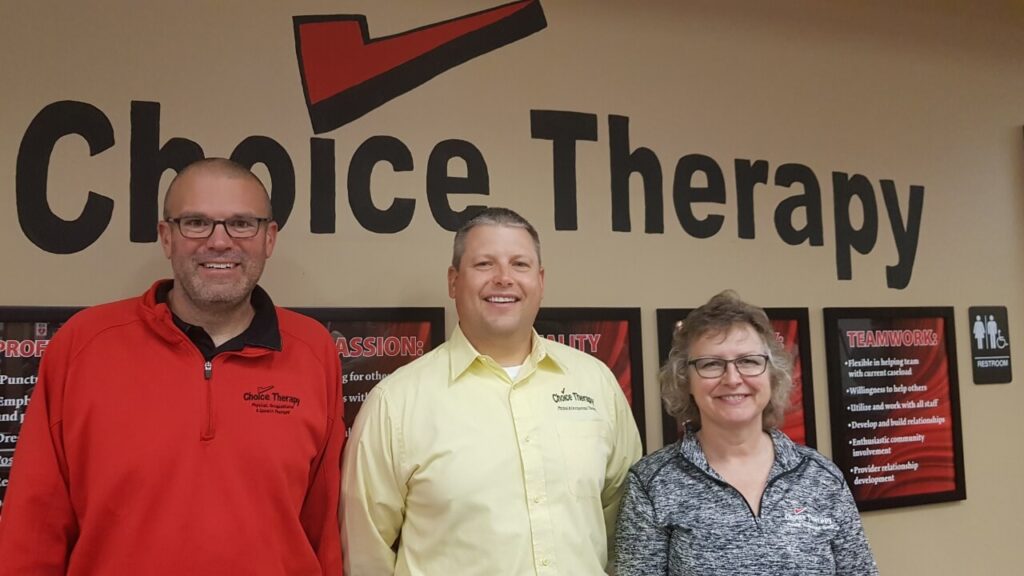 Choice Therapy of Bemidji, Minnesota was founded in 2009 by Joe Kapaun, Jason Brodina, and Cheri Ware. The foundation of our clinics are to provide high-quality care, excellent customer service, and prompt cost-effective treatment of our patients.
Mission
Providing exceptional care to our patients and staff while enriching the communities we serve.
Values
Teamwork, Quality Services, Compassion, Integrity, Professionalism
Vision
The premier healthcare provider and employer in the communities we serve, while growing our independent private practice.
Our mission is helping YOU!
At Choice Therapy, we have one mission: providing exceptional care to our patients and staff while enriching the communities we serve. Our treatment plans are aimed toward the achievement of your goals, taking into account your symptoms, medical history, and any health restrictions you may have. We look forward to watching you achieve your recovery, health and goals! With our care and commitment, we know that is possible for anyone who walks through our doors.
If you are in the northern Minnesota area, and you are looking for relief, look no further. Choice Therapy is here to help as one of the most favored therapy practices. Call our office at 800-395-2810 to request an appointment or free screening with one of our therapists today! We will be happy to meet with you and create a plan for your journey toward health, healing, and pain relief.
At the end of the day, the Choice Therapy team is here to provide support to YOU – the patient. Our success is dependent upon your success, and we strive to create a warm, welcoming environment where you can comfortably heal.
Our Benefits
Awards of Excellence!
2020 Best of Bagley Awards in the category of Physical Therapy Clinic.
Choice Therapy, PA has been selected for the 2020 Best of Bagley Award in the Physical Therapy Clinic category by the Bagley Award Program.
Each year, the Bagley Award Program identifies companies that we believe have achieved exceptional marketing success in their local community and business category. These are local companies that enhance the positive image of small business through service to their customers and our community. These exceptional companies help make the Bagley area a great place to live, work and play.
---
Voted #1 Best Therapy of the Bemidji Area – 2019 (The Bemidji Pioneer and BuyLine)
---
Choice Therapy has been named to the 2015 Inc. 5000 list, ranking 2,313.
This list is a ranking performed by Inc., which analyzes the nation's fastest growing private companies based upon growth over a three year period. Choice Therapy experienced 167% growth over this time period.
In addition to this overall ranking, Choice Therapy was named as the 5th fastest growing company in the Greater Minnesota area, and the 3rd fastest growing Health-related company in the State of Minnesota.
A complete listing of these 5000 private companies is available at: www.inc.com/inc5000.
Make YOUR CHOICE for Therapy
CHOICE THERAPY!